Yesterday, a prominent Southern Baptist seminary, Midwestern Baptist Theological Seminary (MBTS) in Kansas City, announced the hiring of a new faculty member, Thomas Kidd, as Research Professor of Church History. While the Southern Baptist Convention has made great strides in recent years to separate political ideology from biblical theology–something that can only be done if one removes consistent, logical thinking and reasoning from their mental abilities–many of the Convention's churches, leaders, and institutions have embraced leftism as a valid and appropria90.00te ideology that is compatible with their version of Christianity.
The embrace of "either/or" politics in the Southern Baptist Convention is nothing new. Last year, SBC president JD Greear attempted to persuade Christians to believe that one could vote either Republican or Democrat–even stating that voting for the Democrat would be "great"–and that either choice would be acceptable among Christians. Of course, despite the relentless warnings from Reformation Charlotte, the sentiment held with many, and we are now seeing the consequences of those who thought that way.
But that sentiment was deep and wide. David Platt, not technically Southern Baptist but highly influential in the Southern Baptist Convention, stated last year that if you believed voting for the party of abortion, sexual immorality, anti-religious freedom, forced vaccine and puberty-blocker mandates, etc., was sinful, you didn't belong in his church.
The rationale is that, somehow, Democrats are better on social justice issues–which is patently absurd on its face–and that even if that were true, that somehow legitimately outweighed these other issues for some people, therefore, we should be respectful of that. Again, that is simply absurd and dumbfoundingly false.
If you appreciate our work, you can enjoy
ad-free articles, exclusive content, and access to our podcast archive
by becoming a member. ►
Join Now
But we shouldn't be surprised; the Southern Baptist Convention has successfully moved the denomination to the left and this thinking still enslaves so many. Of them, Thomas Kidd. Kidd was also a proponent for "making room" for both sides of the political aisle. Kidd, apparently, has no problem with members of his church voting for exactly what we're seeing taking place right now; the persecution of true Christians, the slaughter of innocent children, the indoctrination of children into a sexually immoral lifestyle, and the stripping of all liberties and freedom of conscience.
Thomas Kidd is "totally cool" with that and will "bless" them, he says.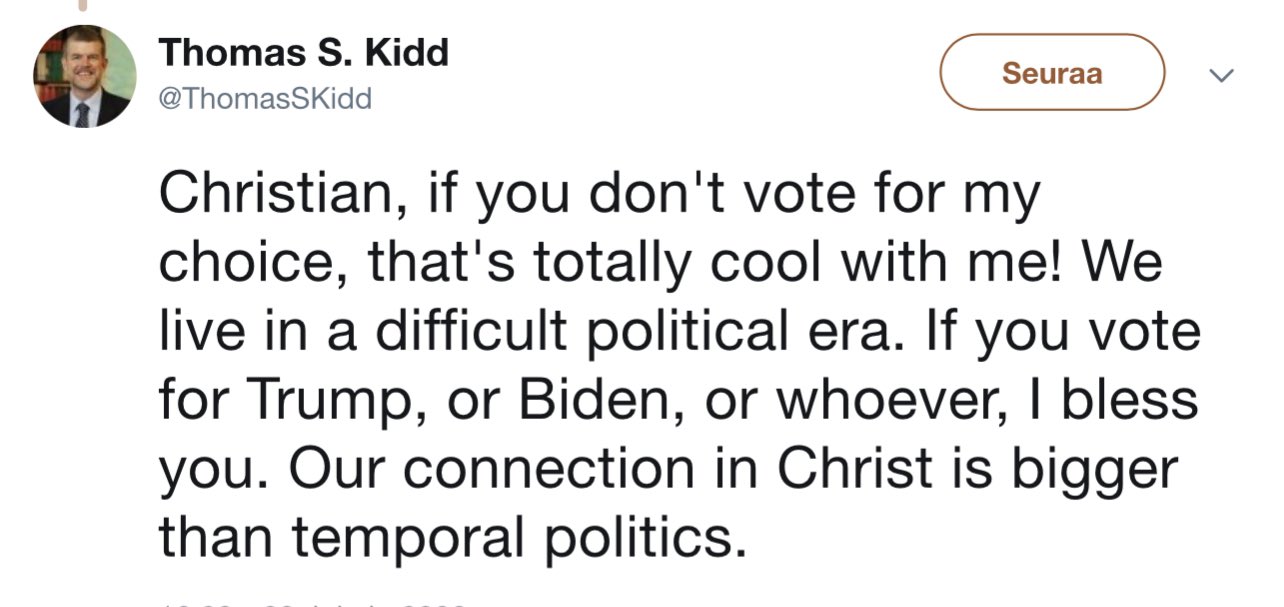 Last year, during the violent riots around the nation, Kidd compared the BLM and ANTIFA rioters to the revolutionary war soldiers, writing in an article at Christianity Today, "Putting up and tearing down statues has been part of American history from its beginning. In July 1776, New York City patriots held a public reading of the Declaration of Independence in front of an equestrian statue of King George III. Then they pulled down the statue, melted it, and used it to make bullets."
The absurdity that is rampant in these progressive-minded social justice warrior types in the Southern Baptist Convention is appalling, to say the least. The Democrats' endgame is to remove any remnant of God or morality from the country. From Abortion to gay rights, from feminism to wealth redistribution, the Democrats are hell-bent on removing God from the world.
They are succeeding because of people like Thomas Kidd.
No, it is NOT okay to vote for a Democrat. It is NOT okay to set sin issues aside. Supporting Democrat politics is sin — unrepentant sin — and those who engage in it should be placed under church discipline and ultimately excommunicated. It is NOT a secondary issue. You cannot be a Christian and support Democrat politics.