Rick Warren, the pastor of Saddleback Church in Lake Forest, CA, boasts one of the largest Southern Baptist churches in the nation. Rick Warren has an enormous amount of influence within Evangelicalism. Rising to stardom in the late '90s and early 2000s with his "Purpose Driven" series of books, he set Southern Baptists and Evangelicals on an Emergent "church growth" trajectory that would infect churches across the theological spectrum.
This weekend, he preached his final sermon.
"You're going to make me cry," he said to the church which erupted in applause. "Have I told you lately that I love you? … You're so tired of applauding for me, I know."
"Well as you know, today is my last message to you as your senior pastor for 43 years," he said. "It's been my privilege to love you, pray for you, serve you, encourage you, stand by you…" These words, however, ring hollow as a church that boasts nearly 24 thousand members, it's unlikely that more than a tiny fraction has ever spoken a word face to face with the man they call their shepherd.
Join Us and Get These Perks:
✅ No Ads in Articles
✅ Access to Comments and Discussions
✅ Community Chats
✅ Full Article and Podcast Archive
✅ The Joy of Supporting Our Work 😉
After boasting of the "6,500 plus messages" that he's preached over the years, he told them that for his final sermon to them, he wanted "to repeat and re-preach the very first message I preached to start this church, word for word, 43 years ago." Of course, this was the sermon, originally preached to about 50-60 people in a local high school, that launched his career into "purpose-driven" watered-down, gospel-less ecumenical, "Chrislamic" chaos that he's been criticized for so much over the years.
Warren's gospel is devoid of any biblical substance; it involves no repentance and actual saving faith. Warren's gospel teaches that salvation is the result of performing a ritualistic act. This false gospel set the stage for decades of heretical movements that came out of Rick Warren's church.
Rick Warren's "Purpose Driven" theology is built upon a false gospel and teaches that salvation comes through repeating prayers. "Right now, God is inviting you to live for his glory by fulfilling the purposes he made you for," Warren writes in his Purpose Driven book.
"Real life begins by committing yourself completely to Jesus Christ. If you are not sure you have done this, all you need to do is receive and believe," Warren continues, "Will you accept God's offer?"
"Wherever you are reading this, I invite you to bow your head and quietly whisper the prayer that will change your eternity: 'Jesus, I believe in you and I receive you.' Go ahead. If you sincerely meant that prayer, congratulations! Welcome to the family of God!"
Warren also affirms the pope. Bible-believing Christians understand without controversy that the pope of the Roman Catholic Church is a deceiver, a liar, and an enemy of God. Yet, leave it to Rick Warren to sign a statement on marriage that affirmed the pope as "Holy Father."
Last June, Warren announced, with praise from the former Southern Baptist Convention president, JD Greear, he was retiring and named Andy Wood as his successor. And Andy Wood, like Greear and his successor, Ed Litton, also apparently believes that the Scriptures whisper about homosexuality.
At the time of Warren's retirement announcement, Wood was the pastor of Echo Church in San Jose, CA. Not only is wood the typical soft-on-sin watered-down gospel seeker-sensitive Evangelical preacher, but he also made headlines recently for his interview with befallen and disqualified pastor, Mark Driscoll.
In May, 2021, Wood invited Driscoll to a leadership conference at Echo Church where Wood said they discussed pastors learning from "mistakes."
But another former Echo Church pastor refuted Wood, calling his apology "blatantly false" and said "I know of no one on Echo's staff who was supportive of Wood bringing Driscoll to the leadership conference," and that even local leaders asked him not to go through with it.
The pastor also contradicted Wood, saying that Wood is misrepresenting the purpose of the conference, that it wasn't about "mistakes," but about "healthy leadership," of which Driscoll clearly is not.
The former pastor posted the following screenshot of the conference description to make his point: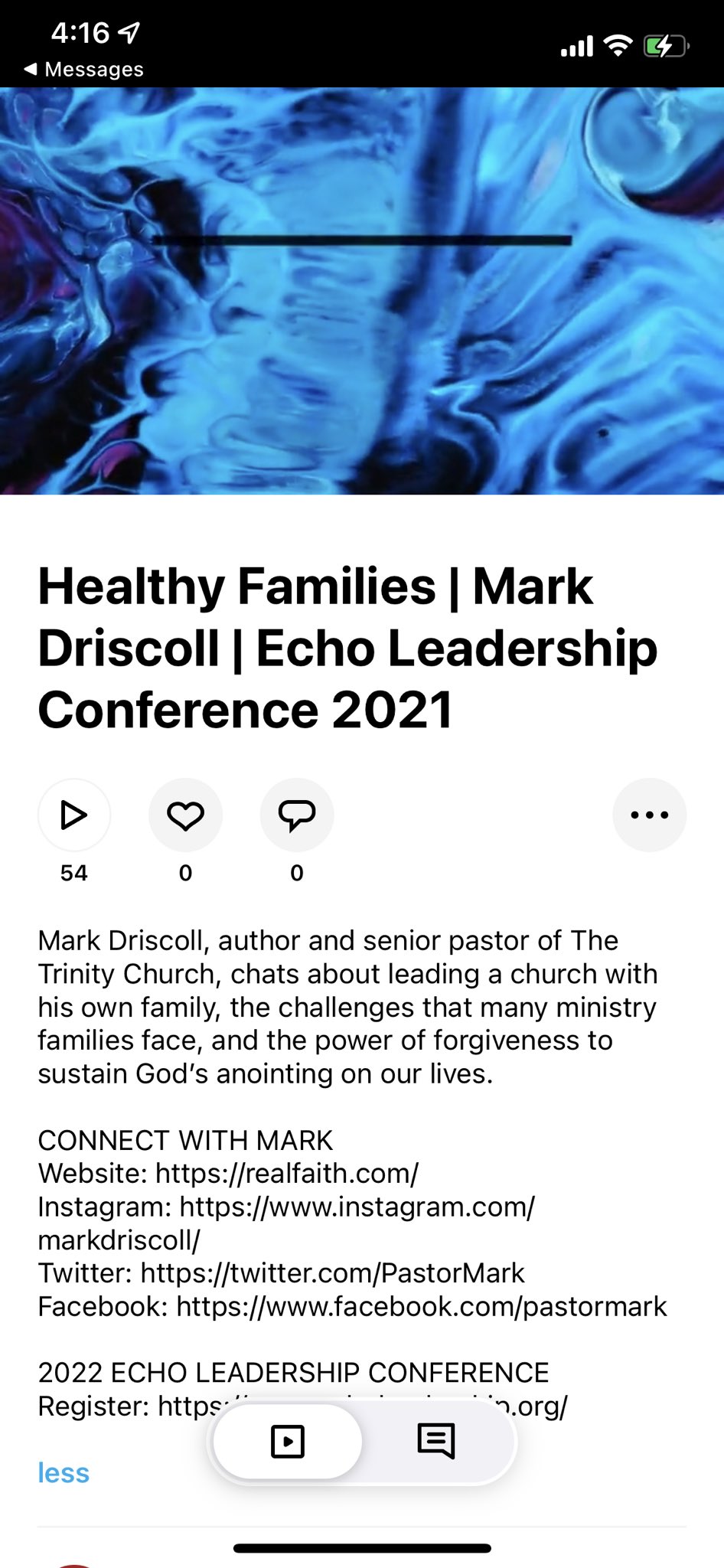 While it could be viewed as the mercy of God that Rick Warren is finally out of the spotlight, no longer preaching, it can also be viewed as the judgment and wrath of God against those who choose to stay at Saddleback Church and sit under the delusional teaching of Andy Wood, who will surely continue to the lead that church into further apostasy.