Yesterday, The Dissenter reported that ERLC vice-chair of the trustee board and prominent Southern Baptist pastor, Kevin Smith, took to the microphone at the SBC annual meeting during a panel discussion with Matt Chandler, Danny Akin, Mark Dever, and others, to lambast Trump voters as "whores."
I'd love to know what some white brothers think about this. White (unintelligible). You mentioned ten years as a window and I'm less hopeful ten years later. I think some Southern Baptists lost their minds when a black man was elected president. Not all, but some.
I think some Southern Baptists were unloving to black people beginning in 2012 with the killing of Trayvon Martin. I don't mean agree about politics or policy…I just mean giving a darn that somebody else is hurting who is supposed to be your brother or sister in Christ.
To see that on video, go to this link.
If you appreciate our work, you can enjoy
ad-free articles, exclusive content, and access to our podcast archive
by becoming a member. ►
Join Now
Now, unsurprisingly, Occupy Democrats, a far-left Christian-hating group in the Democrat party praised Smith for his remarks.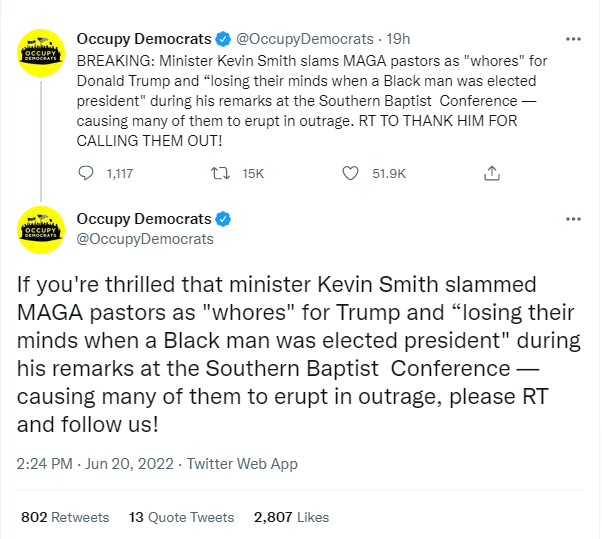 In fact, that isn't all of it. He has drawn the praise of far-left political ideologues from all over the nation:
How much longer can conservatives be a part of this? How much longer can conservatives remain in this denomination without it actually being sinful to do so.