The Dissenter has written several articles covering the latest scandal in the Southern Baptist Convention involving a number of Southern Baptist establishment members conspiring to blackmail conservative Texas pastor, Tom Buck, because of his outspoken opposition to the liberal drift in the denomination.
Following Tom Buck's initiation of contact with former SBC presidential candidate, Willy Rice, regarding questions about the eligibility of one of Rice's deacons, Buck says he received a threatening phone call from a well-known SBC pastor who made him aware that a rough draft of an article that Buck had written with his wife about God's restoration of their marriage had been passed around.Karen Swallow Prior Says She Didn't Come to the Bucks Because He's a Bully and She's Afraid of Him
If you've followed the scandal surrounding Texas pastor, Tom Buck and his wife, Jennifer concerning the rough draft that was leaked to the press, you're probably aware by now one of the main culprits behind that scandal was Southeastern Baptist Seminary professor, Karen Swallow Prior.
Prior has argued relentlessly that she had nothing to do with passing around Tom and Jennifer's rough draft of the abuse story to the press. Instead, she and several others have continuously argued that they don't know who it is and that it wasn't them.
Join Us and Get These Perks:
✅ No Ads in Articles
✅ Access to Comments and Discussions
✅ Community Chats
✅ Full Article and Podcast Archive
✅ The Joy of Supporting Our Work 😉
After victim-shaming Jennifer Buck, Karen Swallow Prior has still refused to acknowledge her part in the spread of this rough draft even accepting the accolades of another liberal activist, Dave Miller, who sang Karen's praises refusing to believe she could do any wrong.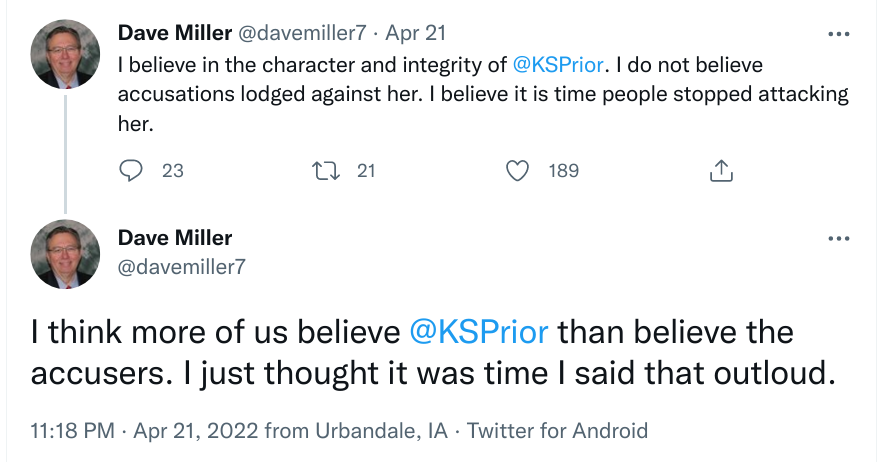 Yet, in an email that was obtained exclusively with Capstone Report and shared with The Dissenter, SEBTS has confirmed that Karen Swallow Prior was the source behind the leak who shared the rough draft with potential publishers.
Since then, Buck has met with Swallow Prior along with her boss, Danny Akin, in an attempt to get to the bottom of the leak and her part in it. In Part II of the clips below, Karen Swallow Prior tells Tom that the reason she didn't come to him and inform him that someone was fishing his wife's rough draft was that he is a "bully," and that she is "afraid of him," and that she "wants nothing to do with him."