Years ago, the discernment community dubbed those Evangelical "elites"—the ones that believe they're smarter than everyone else because they hold an academic degree from one of Evangelicalism's "prestigious" seminaries—the Evangelical Intelligentsia, or EI for short. The EI regularly scour social media to look for anyone who is beneath their paygrade that they can ridicule for standing up for biblical fidelity without the proper credentials.
The EI includes such people as seminary professors, megachurch pastors, and Southern Baptist entity heads. This would include many of the well-known talking heads of the Southern Baptist Convention as well as the many countless ladder-climbers like Brent Hobbs, Spence Spencer, and Josh Wester, and other pastors and leaders who've blindly supported his movement, including Company Man™ Dave Miller and SBC Voices.
Their stance is clear—to earn the right to speak, especially to correct others, one must hold thoroughly to the approved narrative and message of the EI. The EI tells us what to think about cultural issues such as abortion, LGBTQ, and feminism, and also tells us what heresies are unacceptable and which ones we're allowed to tolerate. Oh, and lest we forget, one must drink lattes with their pinky finger stuck out.
Well, Southwestern Baptist Theological Seminary just published an infographic reminding you of your duty to submit to their narrative and let the smart guys do the talking for you and in order to correct someone, you must first build a relationship with them. Below, SWBTS posted this image on their Instagram page:
If you appreciate our work, you can enjoy
ad-free articles, exclusive content, and access to our podcast archive
by becoming a member. ►
Join Now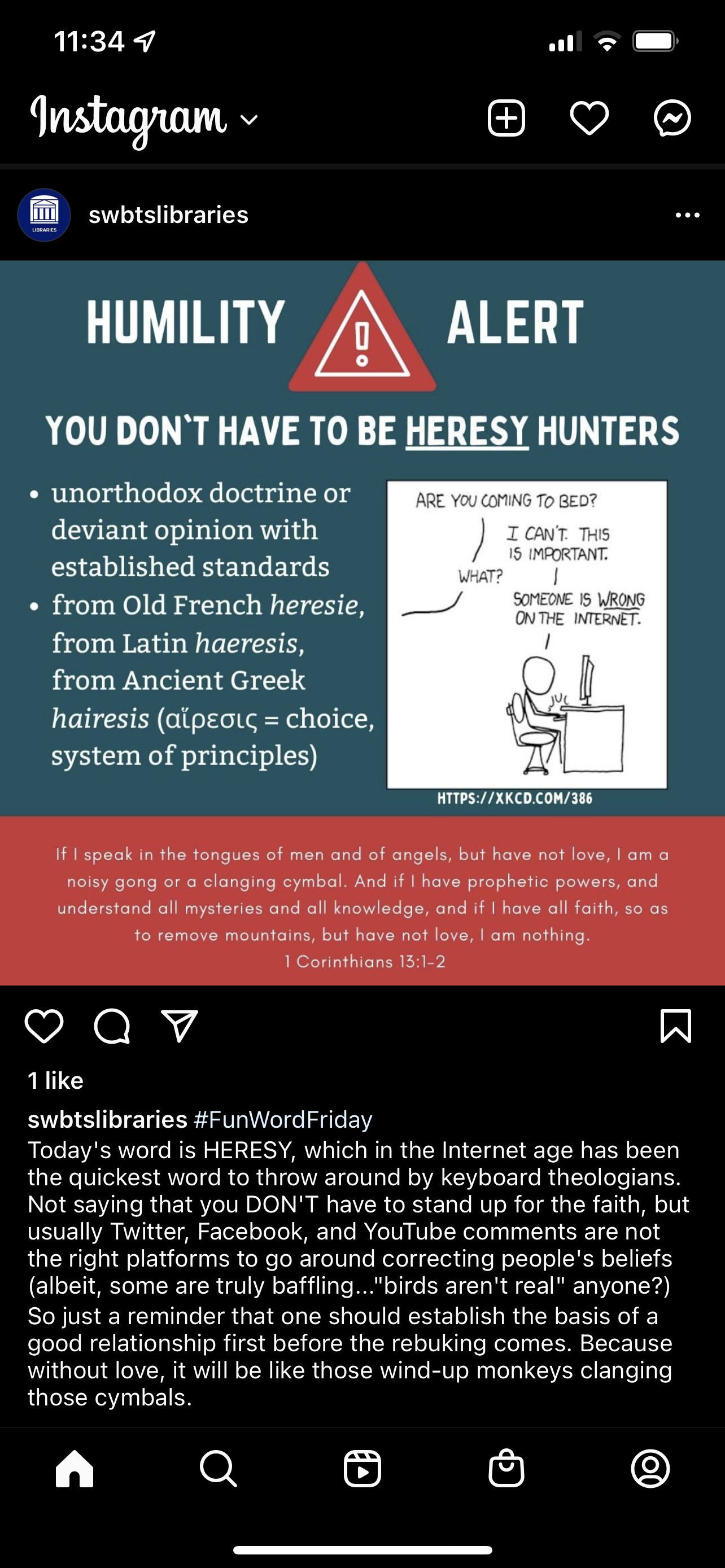 Like it or not, social media is part of the world—and a very large part at that. Social media is where ideas are exchanged (supposedly) and where a large part of human interaction takes place. We can't hide from social media simply because the EI tells us that's what we're supposed to do.
The whole concept of "relationship evangelism" or "relationship correction" is an unbiblical concept. We are called to proclaim Christ by proclaiming the truth. We're not called to make friends with the world — for friendship with the world is enmity with God (James 4:4). Nor are we called to make friends with every public false teacher proclaiming heresy online before we correct them.
If you're worried about offending people with the biblical truth, then you don't understand the gospel. We're not after peace with the world. That's what the world wants from us. The world wants us to stop proclaiming Christ, stop proclaiming truth, and stop correcting false and unbiblical teaching—and if we do, we've lost the gospel altogether.