Andy Stanly has made a number of dubious claims about the Christian faith and in particular, the Scriptures. Famously stating that Christianity needs to "unhitch" from the Old Testament, he told his audience that the Ten Commandments don't apply to Christians. He's flopped on homosexuality — telling the mother of an openly gay and practicing girl that her daughter was saved. He promotes the idea that even if you don't believe in Jesus, you can have a better life by following his teachings. And rampages against the Scriptures telling people that they don't need to feel like they should defend the Scriptures because they aren't really that important and it isn't what Christianity rests on.
Andy Stanley, who is famous for his sermon "unhitching" Christianity from the Bible, continues to trash Scripture by recently claiming that the Scriptures are nothing but a collection of ancient declarations put together by "superstitious men." Well, now he appears to be putting his beliefs into practice by rebuking publicly anyone who would claim differently.
In a recent Twitter thread, Andy Stanley responded to the tweet of conservative pastor and podcast host, Virgil Walker, who tweeted that "If your pastor is a woman, she's not a pastor. She's a feminist who ignores Scripture." Stanley's response: "Rude and incorrect."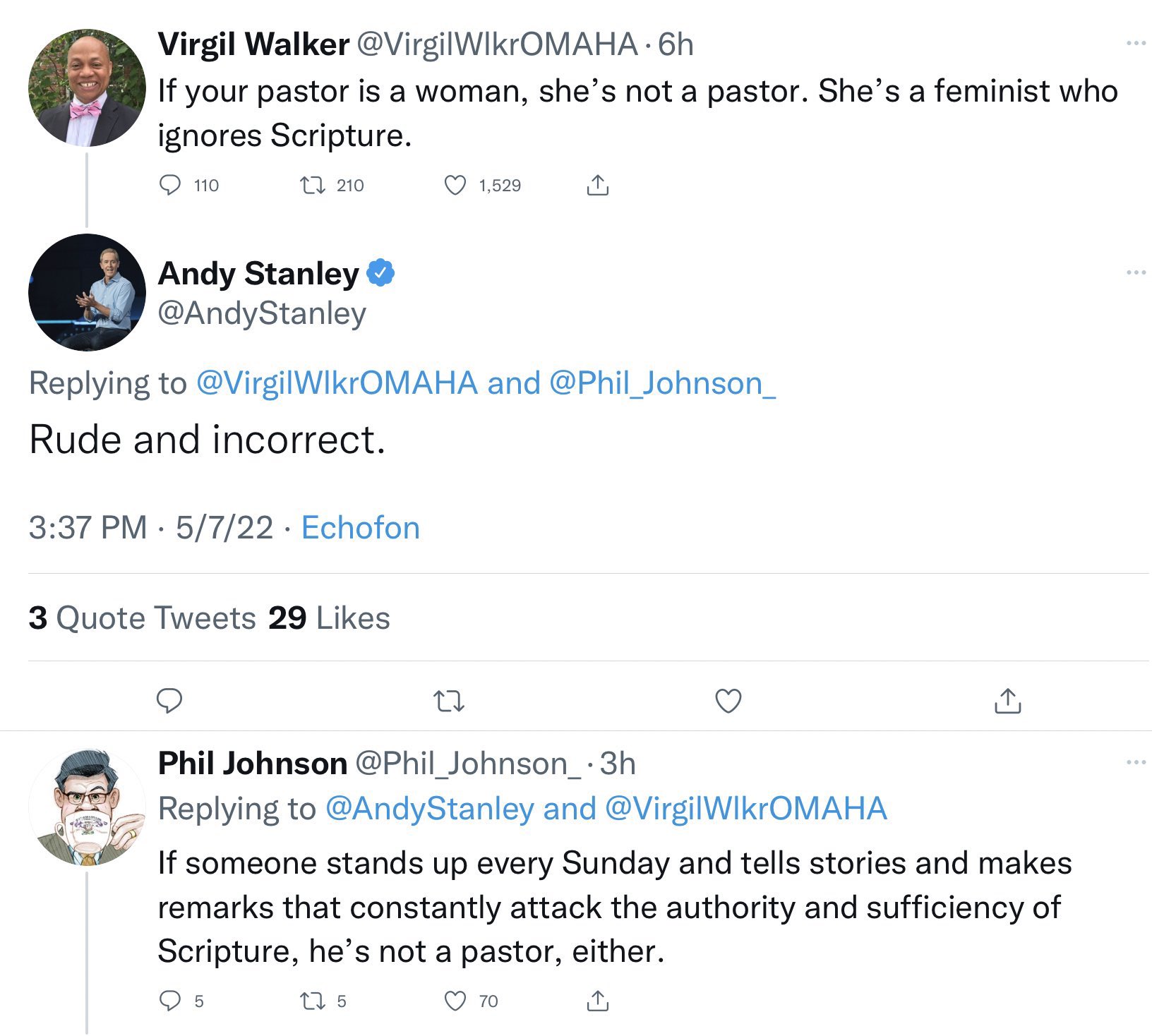 We're not sure if Stanley's response of "incorrect" is directed toward Walker's interpretation of the Scripture, which is absolutely correct, or if this is just Stanley calling him "rude and incorrect" for actually believing the Scriptures and obeying them. Either way, when Stanley faced God on judgment day, he's likely to hear his own words echoed back to him right before he hears the words "depart from me."
If you appreciate our work, you can enjoy
ad-free articles, exclusive content, and access to our podcast archive
by becoming a member. ►
Join Now
We concur with Phil Johnson's response to Stanley, as well.