The Southern Baptist Convention's resident racial instigator is at it again defending Ketanji Brown Jackson, the far-left radical activist judge who sets pedophiles free, attempting to argue that she might not actually be pro-abortion.
Lol! That's just dumb.
As Big Tech continues to censor conservative publications like ours, we must increasingly rely on supporters to continue our work. Much of our work, particularly as it revolves around a biblical worldview on social and cultural issues, isn't even allowed to be shared on social media anymore. This reduces our traffic and causes us to move more of our work exclusively to Substack. Members who subscribe to us on Substack will gain exclusive access to all of our work, free of ads and other annoying pop-ups, as well as member-only access to our podcast archive and controversial moderated content. Please consider supporting us today by subscribing at:
Dwight McKissic, who perverts the gospel and tweaks it enough to be able to advance leftists causes, often finds himself in the hot seat defending radical leftist politicians. As one person observed,
"Of course, he is going to argue that, and it doesn't matter if she is. She is black and therefore, she should be celebrated. This is a man who thinks MLK Jr. was a Christian simply because he was a civil rights leader, nothing else matters. This is a works-based religion man and a false Christianity."
Do we really need to prove that she is pro-abortion? I mean, we could start with the fact that she, like all leftists, believes that Roe v. Wade is binding and therefore, all future abortion cases are to be ruled in light of it despite how flawed it is.
Secondly, Joe Biden said that he would only appoint a pro-abortion Black woman, therefore, we have no reason to believe that she would be otherwise.
And, several of her public supporters have already hung the future of their beloved blood sacrifice ritual on Ketanji Brown Jackson's back, noting that the country is dependent upon her to uphold their right to kill children.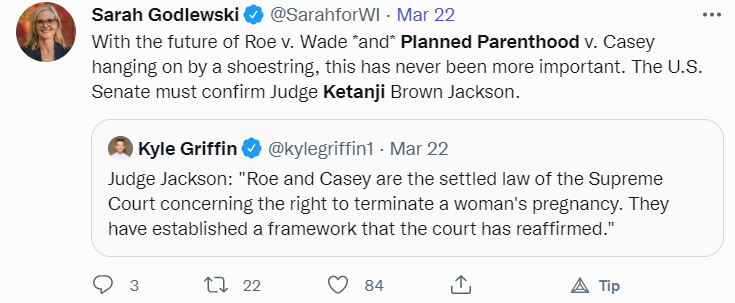 And she ruled against Donald Trump's defunding of Planned Parenthood.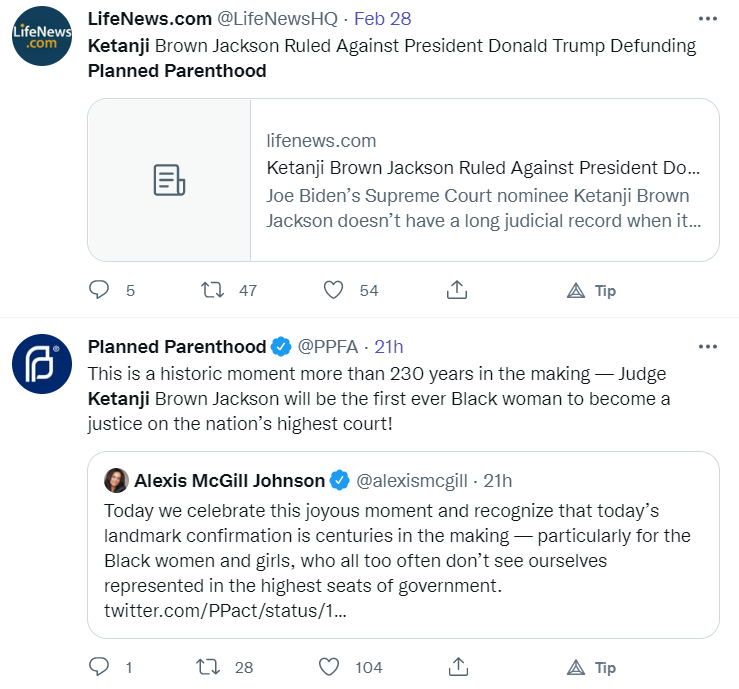 Of course, she's pro-abortion. Here's the problem with the Southern Baptist Convention. We are not standing against this incoherent, despicable worldview that men like Dwight McKissic continue to parade on the stages of their churches and denominational platforms. McKissic is fully entrenched in the world and loves the world.
As this same person noted to me regarding McKissic and his worldview, "They believe God favors the oppressed, all black people are oppressed, therefore God ipso facto favors all black people. This is the mentality; they do not understand that all of us are in the same rotten stinking boat of sin in need of redemption of which we are unworthy."