Below is a gallery of some of the pro-abortion lobby around the nation today as the most important abortion case since Roe v. Wade is underway at the Supreme Court.
In this video, pro-aborts are eating abortion pills outside the Supreme Court:
As Big Tech continues to censor conservative publications like ours, we must increasingly rely on supporters to continue our work. Much of our work, particularly as it revolves around a biblical worldview on social and cultural issues, isn't even allowed to be shared on social media anymore. This reduces our traffic and causes us to move more of our work exclusively to Substack. Members who subscribe to us on Substack will gain exclusive access to all of our work, free of ads and other annoying pop-ups, as well as member-only access to our podcast archive and controversial moderated content. Please consider supporting us today by subscribing at:
Here, some skin-head lesbians gather to defend the slaughter of innocent children.
Here, Cori Bush, a Black Lives Matter activist and U.S. representative out of St. Louis, demonstrates her lack of reasoning skills as she supports the never-ending holocaust on Black children.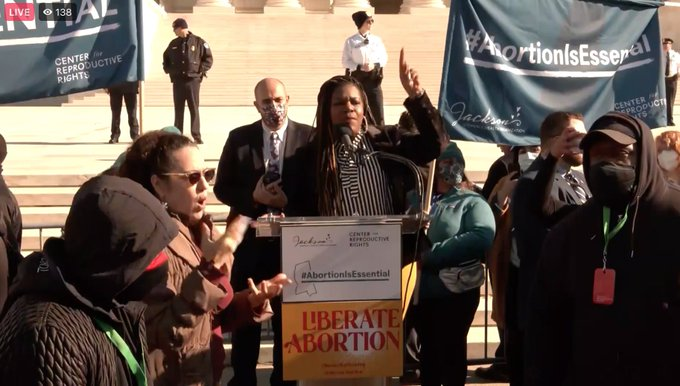 And here, Jocelyn Frye, the new president of National Partnership for Women & Families–if that isn't a misnomer–conflates murder with "healthcare" and defends abortion.