In 2019, Reformation Charlotte broke the story that a Campus Crusade (CRU) leader — who identifies as "LGBTQ" was teaching students that the Scriptures do not teach that homosexuality is sinful. Quoting a lesbian TGC author, Rachel Gilson, Grant Hartley tweeted the following:
Hartley, a former student leader at CRU and an intern for CRU in California, identifies as LGBTQ and uses the hashtag "#LGBTQinChrist."
As Big Tech continues to censor conservative publications like ours, we must increasingly rely on supporters to continue our work. Much of our work, particularly as it revolves around a biblical worldview on social and cultural issues, isn't even allowed to be shared on social media anymore. This reduces our traffic and causes us to move more of our work exclusively to Substack. Members who subscribe to us on Substack will gain exclusive access to all of our work, free of ads and other annoying pop-ups, as well as member-only access to our podcast archive and controversial moderated content. Please consider supporting us today by subscribing at:
Since then, Hartley has joined the Roman Catholic Church as an open homosexual yet still runs in circles with his Revoice and The Gospel Coalition friends, like Rachel Gilson. In a recent tweet, however, Hartley posted that he is looking forward to impressing "all the cute celibate boys" at the upcoming Revoice Conference.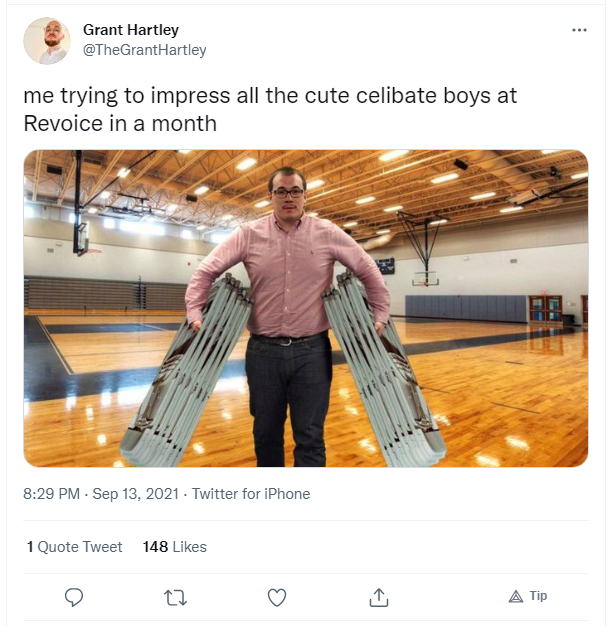 If you're not familiar with Revoice, it is the "gay Christian" movement largely associated with the historically conservative Presbyterian Church in America (PCA) that advocates for gay "celibacy" without giving up your gay identity while claiming to be a Christian. The movement is largely prevalent with homosexuals who want to justify their homosexual behavior, live a life of homosexuality, yet stop short of actual sex, they claim. For adherents to this movement, gay cuddling and man-to-man intimate relationships are normal so long as it stops short of bodily penetration.
So what's the big deal? The big deal is that people like Hartley are everywhere in the Church. They are infiltrating every segment. This guy was leading a Campus Crusade (CRU) group for several years; leading young college-aged kids and teaching them that homosexuality is normal. Parents are sending their kids to these colleges and groups with the expectation that they will be getting biblical leadership in the midst of a secularized school curriculum when, in fact, the so-called "Christianity" they're being fed is just as bad, if not worse.