Beth Moore–who recently followed race hustler, Dwight McKissic "off the bus" of the Southern Baptist Convention–is on a mission to destroy the biblical view of gender and sexuality. Moore, who mocks biblical patriarchy and male headship of the church and home, has made it her personal calling to seek and deliver women from the gripping hands of male headship everywhere.
Beth Moore has been met with growing pushback from conservatives in the denomination. So much that even Al Mohler, who has been sidelined on the issue for years, has issued statements on the matter clarifying not only the biblical doctrine on the practice of women preaching, but the denomination's official policy.
As Big Tech continues to censor conservative publications like ours, we must increasingly rely on supporters to continue our work. Much of our work, particularly as it revolves around a biblical worldview on social and cultural issues, isn't even allowed to be shared on social media anymore. This reduces our traffic and causes us to move more of our work exclusively to Substack. Members who subscribe to us on Substack will gain exclusive access to all of our work, free of ads and other annoying pop-ups, as well as member-only access to our podcast archive and controversial moderated content. Please consider supporting us today by subscribing at:
This prompted a mocking response from Beth Moore who responded to Mohler with "Happy Mother's Day, Al," only two months after Mohler's mother passed away.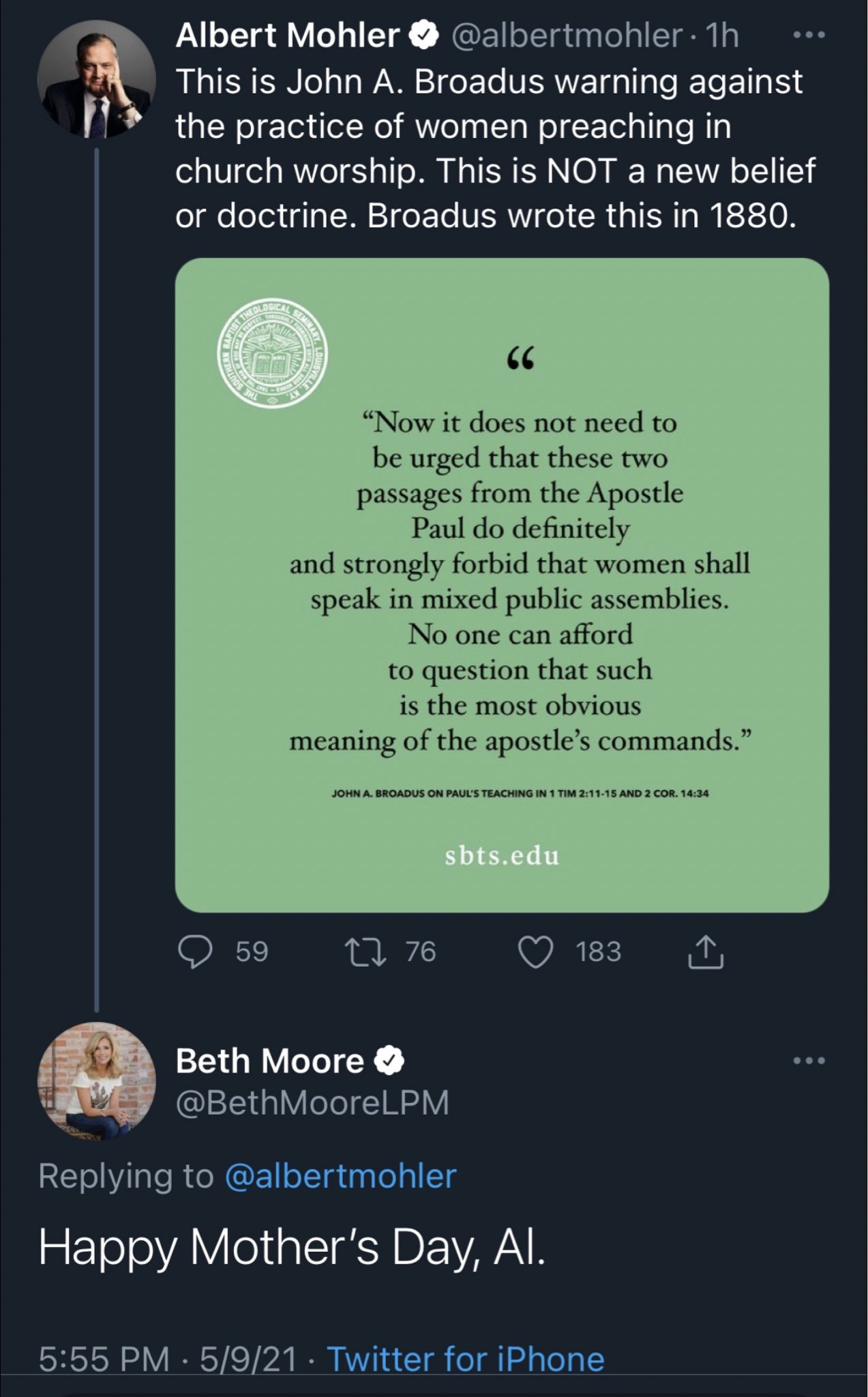 The amount of condescension from this evil woman is actually harrowing–she revels in it. She delights in her own lust for attention that she prostitutes out on social media, daily. She is the blind leading the blind and the blind are being led right off a cliff to their own destruction.