The vast majority of Christians in the early Church would have been willing to die for their faith. Persecution was a product of their time and culture which naturally weeded out the faux believers. It's interesting to note that in many developing countries today — China and Middle-Eastern countries, for example — experience much of the same persecution as the early Church. In western countries, especially in America, not so much — at least not yet.
A recent study published by Lifeway exposes the fake Christianity that we see so much of in America and western countries today. This study shows that up to 66 percent of those who profess to be Christians actually spend most of their time having "nothing to do with God."
As Big Tech continues to censor conservative publications like ours, we must increasingly rely on supporters to continue our work. Much of our work, particularly as it revolves around a biblical worldview on social and cultural issues, isn't even allowed to be shared on social media anymore. This reduces our traffic and causes us to move more of our work exclusively to Substack. Members who subscribe to us on Substack will gain exclusive access to all of our work, free of ads and other annoying pop-ups, as well as member-only access to our podcast archive and controversial moderated content. Please consider supporting us today by subscribing at:
39 percent say they hardly ever speak of spiritual things while 62 percent say that most people don't even know that they are Christians.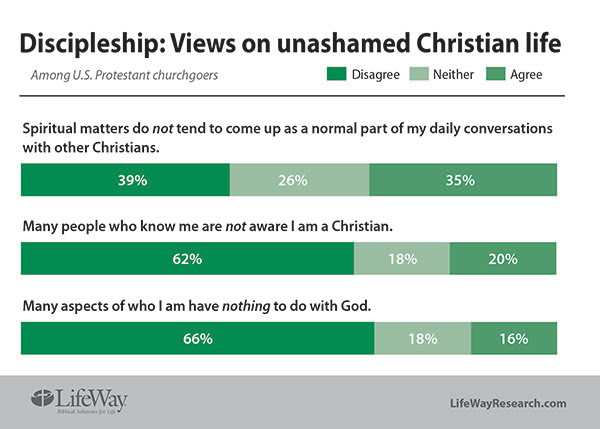 Bottom line, most people who claim to be Christians are not really Christians. If they were, they would not be ashamed of the gospel — it would be a natural outpouring of their lives.
For I am not ashamed of the gospel, for it is the power of God for salvation to everyone who believes, to the Jew first and also to the Greek. For in it the righteousness of God is revealed from faith for faith,] as it is written, "The righteous shall live by faith."

Romans 1:16-17